Our hot specialty with a touch of exoticism!
Packaging 100% biodegradable!
Our hot specialty with a touch of exoticism! With these three pepper varieties you conjure up flavors and spiciness in stews, marinades and on meat / vegetables when grilling.
The white pepper is hot and spicy and is grown by small farmers in the rainforest.
The wild Guinea pepper has an exotic, pungent aroma, many essential oils and is collected wild in the rainforest of Cameroon
The Selims pepper has a pungent, slightly bitter anise aroma and can be added whole or in pieces to soups, sauces or poultry dishes when cooking. It is also collected in the rainforest of Cameroon.
All 3 products come from small farmers in African villages. Fair and social - typical village store!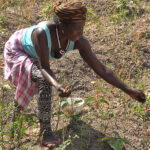 Small farmers in the rainforest
What makes our cloves special? They come from smallholders in the rainforest of Cameroon. For the local people we offer a source of income and thus take the pressure off the forests, because there is no logging needed to earn money. You support people, nature and climate!
Additional information
| | |
| --- | --- |
| Weight | 224 g |
| Dimensions | 18 × 11 × 2 cm |
| Zutaten | Weißer Pfeffer, Guinea Pfeffer, Selim Pfeffer |
Recipes & Ideas
White Pepper:
Use our sustainably grown pepper coarsely crushed in a mortar or finely ground in a pepper mill with light sauces and soups, risotto and fish, for vegetables and poultry, vegan dishes with tofu.
Guinea Pepper:
Use the exotic-aromatic Guinea pepper crushed in a mortar for hot-aromatic soups, as a seasoning for fish, meat and braised dishes or as an ingredient for homemade spice blends such as Berbere.
Selim Pepper:
Try a West African classic: Peanut soup with sweet potato, selim pepper and chili! Peanuts are ubiquitous in African cuisine. They provide calories, healthy fats and protein, and they make any dish smooth and creamy.
Ingredients:
2 onions, finely sliced into rings
2 cloves of garlic, minced
½ tablespoon ginger grated
5 fruits of selimp pepper
Oil for frying
1 large sweet potato cut into sticks
½ liter of homemade vegetable broth
100 grams of peanut butter with pieces
2 dried chillies, finely chopped
0.3 liters of strained tomatoes
Preparation:
Sauté the onions, garlic and ginger in hot oil for one minute, add the sweet potato sticks and sauté for another 2 minutes.
Deglaze with the vegetable broth and add the selimp pepper.
In a bowl, mix the peanut puree, strained tomatoes and a little broth and add to the soup and season with chili and salt. If you like, you can also add other ingredients such as okra or cabbage leaves cut into strips.