Traditionally hand roasted cashews from forest gardens
Shipping in reusable deposit jar!
Cashews are true all-rounders among the nuts! They are the ideal basis for healthy nutrition, fitness and of course a delicious snack. Our cashews are a vegan protein supplier for muscle building, B vitamins ensure strong nerves and concentration, L-tryptophan is the building block for the "happiness hormone" serotonin, magnesium ensures relaxed muscles. In sports, they are the ideal energy supplier for long, hard exertions. They give you the performance reserves when you need them.
Climate Nuts Cashews are grown in forest gardens, processed by hand and roasted traditionally over a fire. Forest gardens are mixed crops of trees, shrubs and crops. They sequester CO2, enrich soils, provide good harvests and a healthy water balance. They provide shelter for wildlife, increase biodiversity, and lower temperatures in hot countries.
You help people, nature and the climate with every purchase! Are you with us?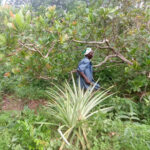 Forest gardens in Sierra Leone
What makes our cashews special? They come from forest gardens in Sierra Leone. In these semi-natural forests, a variety of trees, shrubs and crops grow in mixed crops. This offers people a versatile income opportunity, helps biodiversity and the soil. You support people, nature and climate!
Additional information
| | |
| --- | --- |
| Weight | 520 g |
| Dimensions | 12,6 × 8,7 × 8,7 cm |
Recipes & Ideas
Whether you are an amateur or a professional: Climate Nuts Cashews are the practical basis for many healthy treats – in the morning, at noon, in the evening. Climate Nuts are rich in vital substances and an ecological alternative to milk, meat & Co. Always conjure up something new on the dining table – simple, quick and delicious!
We love pesto pasta, don't you?
FOR 4 PORTIONS OF PESTO YOU NEED THE FOLLOWING INGREDIENTS:
1 bunch basil
1 pinch of salt
4 cloves of garlic
about 100 ml olive oil
50 g grated parmesan*
50 g cashew nuts
You will also need a stand or hand blender.
* If you want the pesto to be vegan, simply omit the Parmesan or replace it with yeast flakes.
THE PREPARATION IS VERY EASY:
Wash the basil, pat dry and pluck the leaves from the stems. Peel and press the garlic. Chop the cashews. Grate the Parmesan cheese (optional). Puree all ingredients in a blender to a smooth paste. Now you can mix the delicious pesto directly with hot pasta and enjoy. Alternatively, you can fill it into jars and cover the top with some additional oil to make the pesto last longer.
For the small hunger in between – Cashew Cookies!
You'll need an oven, a hand mixer and the following ingredients:
INGREDIENTS:
50 g butter or vegan alternative
110 g sugar
110 g raw cane sugar
½ tsp vanilla
350g wheat flour
1 tsp baking soda
½ tsp salt
100g cashews
Butter or margarine to grease the baking sheets
PREPARATION:
Preheat the oven to 190 °C top and bottom heat. Grease two baking trays. Beat the margarine with both sugars and the vanilla until the mixture is fluffy, light and airy.
In another bowl, combine the flour, baking soda and salt and gradually stir into the margarine-sugar mixture with a hand mixer. Roughly chop the cashews and fold into the batter.
Form a small amount of dough into a ball at a time, flatten, and spread on the baking sheets, spacing them apart. Either bake the trays one at a time or together using convection oven.
Bake in preheated oven for 10-12 minutes until golden brown.
Yummie!
You can find more delicious recipes on the "Recipes" page.