Benin Firemix – Country Onion – Lion Chili
A mixture that will cause incredulous astonishment among your guests!
Packaging 100% biodegradable!
Benin Firemix - Country Onion - Lion Chili
A mixture that will cause incredulous astonishment among your guests! The Benin Firemix is spicy and full of wild roasted flavors, the Lion Chilis are as fiery as they are fruity and the Country Onions are a taste sensation of smoked bacon and onions. For those brave enough to experience something new!
All 3 products come from small farmers in African villages, our Country Onions directly from the rainforest of Cameroon. Fair and social - typical village store!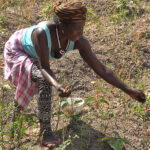 Small farmers in the rainforest
What makes our cloves special? They come from smallholders in the rainforest of Cameroon. For the local people we offer a source of income and thus take the pressure off the forests, because there is no logging needed to earn money. You support people, nature and climate!
Additional information
| | |
| --- | --- |
| Weight | 194 g |
| Dimensions | 18 × 11 × 2 cm |
| Zutaten | Benin Firemix, Country Onions, Lion Chili |
Recipes & Ideas
Benin Firemix
Use our Benin Firemix as a hot and spicy topping for fried potatoes and herb curd. Our favorite, however, is to make it into a pesto.
Ingredients:
4 tablespoons Benin Firemix
1 bunch flat leaf parsley
150 ml fruity olive oil
Grated parmesan cheese to taste
The preparation is easy 😉. Finely chop the parsley and mix with the other ingredients. Add to steaming hot, al dente cooked spaghetti and enjoy!
Country Onion
Try Country Onions as a flavorful ingredient for vegan dishes, test your cooking skills with a Central African stew, or pound them in a mortar and make scrambled eggs without bacon!
Our Tip. Try a classic with a new flavor twist: Potato Soup with Calabash Nutmeg, Country Onion and White Pepper.
Ingredients:
1 kg floury potatoes
5 onions
½ celery bulb
3 carrots
3 parsley roots
oil for frying
2 pieces of calabash nutmeg
5 pieces of Country Onion
White pepper to taste
Salt
Herbs to taste (parsley, coriander greens, chives, cress, dill…)
200 g crème fraîche or vegan alternative
Preparation:
Cut the vegetables into cubes and sauté in a large pot for a few minutes. Pour in hot water so that it is just covered. Cut the calabash nutmeg and selimp pepper into coarse pieces and add (tip: since the spices will be removed later, a tea filter is recommended!) and bring to a boil. Cook over low heat for about 20 minutes, until the vegetables are soft.
Remove the spices and finely puree the soup with a blender, season with salt and ground white pepper and serve with a large spoonful of crème fraîche and chopped herbs.
Lion Chili
Use our Lion Chili for anything that could use heat and sweet bell pepper scent. For chili con/sin carne, for French ratatouille, for spaghetti arrabiata and much more.
Are you flexible? Then let's take a leap from Africa to South America, because they have a wonderful recipe for a sauce for grilling, whether with meat or a vegan alternative: we're talking about chimichurri.
Ingredients:
2 bunches of parsley, finely chopped
1 lime
2 shallots, finely chopped
4 garlic cloves, finely chopped or pressed
1 tsp Lion Chili, finely chopped or pounded in a mortar
1 tsp. salt
1 pinch ClimateNuts White pepper, ground or crushed
1 cup olive oil
1 tablespoon thyme (fresh or dried)
1 tablespoon oregano (fresh or dried dried)
Preparation:
Mix chopped parsley, garlic and shallot in a bowl. Squeeze the lime and add the juice. Stir in Lion Chili, pepper, oil, thyme, oregano and salt. Season well and let stand in the refrigerator for two hours.