"Onion, Garlic, Bacon:
Aroma wonders from the rainforest of Cameroon
Packaging 100% biodegradable!

Country Onions are concentrated aroma power from the rainforest! They smell like onions and garlic and we think like smoked bacon! Our Country Onions come from the heart of the forest. There are people there who have used the rainforest for centuries as an inexhaustible source of food and medicine.
And: with your purchase you contribute to the preservation of rainforests, because it is worthwhile for the local people to invest in the care and sustainable use.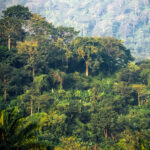 Wild collection from the rainforest
What makes our calabash nutmeg special? It is wild-collected directly from the steaming green rainforests of Cameroon. Local village communities protect the forest, which they have used sustainably for centuries as a source of food, material and medicine. This sustainable use by local people prevents forests from being endangered for short-term profit. You support people, nature and climate!
| | |
| --- | --- |
| Weight | 83 g |
| Dimensions | 18 × 11 × 2 cm |
Try Country Onions as a spicy ingredient for vegan dishes, test your cooking skills with a Central African stew or crush them in a mortar and make scrambled eggs without bacon!
Our Tip. Try a classic with a new flavor twist: Potato Soup with Calabash Nutmeg, Country Onion and White Pepper.
Ingredients:
1 kg floury potatoes
5 onions
½ celery bulb
3 carrots
3 parsley roots
oil for frying
2 pieces of calabash nutmeg
5 pieces of Country Onion
White pepper to taste
Salt
Herbs to taste (parsley, coriander greens, chives, cress, dill…)
200 g crème fraîche or vegan alternative
Preparation:
Cut the vegetables into cubes and sauté in a large pot for a few minutes. Pour in hot water so that it is just covered. Cut the calabash nutmeg and selimp pepper into coarse pieces and add (tip: since the spices will be removed later, a tea filter is recommended!) and bring to a boil. Cook over low heat for about 20 minutes, until the vegetables are soft.
Remove the spices and finely puree the soup with a blender, season with salt and ground white pepper and serve with a large spoonful of crème fraîche and chopped herbs.
Translated with www.DeepL.com/Translator (free version)