Forest sponsorship: planting food forests in Africa
Give yourself or your loved ones something that will do good for decades!

Why should we plant food forests in Africa?
Agroforestry systems are a practice that is thousands of years old and can be found all over the world. Trees are combined with crops, cereals or livestock and all parts of the system support each other. Like a natural forest, there are several layers from the tall trees to lower trees to shrubs and ground plants.
We establish tree nurseries in the villages together with the farmers, grow the seedlings, plant the trees and provide long-term care. Between the trees, there is space for products such as cassava, pineapple, peanuts and chilli. In this way, everyone has an interest in preserving your forest and helping people, wildlife and the climate.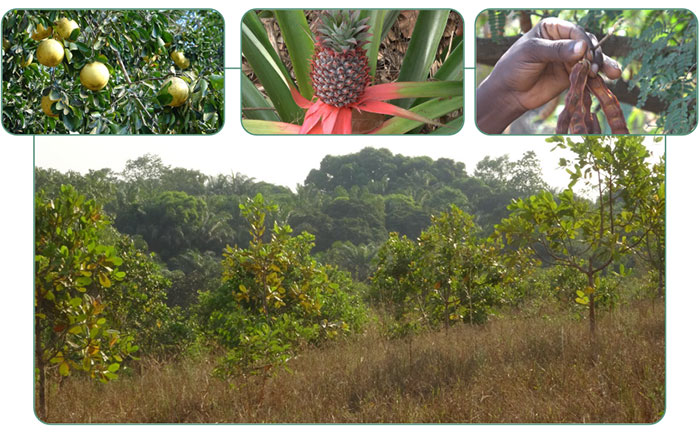 Would you like to get to know our trees in detail?
We plant versatile and beautiful trees for the benefit of people and nature! But which tree species make up one hectare in our country? 166 trees and some in between…


5 x coconut palms (Cocos nucifera): Coconuts fetch a high price on the local market, there are 3 to 4 harvests per year and the leaves are used for fences and shade roofs. The nuts have a long shelf life, the flesh in thin strips can be dried and exported, thus securing income.


10 x Horseradish tree (Moringa oleifera): It is considered a superfood here, in Africa it is a medicine tree. The young fruits are used like beans, the leaves in traditional African medicine are used to treat malaria, fever and pain. The oil from the seeds is a valuable raw material for the cosmetics and pharmaceutical industries.


50 x Cashew (Anacardium occidentale): Cashews offer healthy tasty nuts, a good price internationally and locally and they are an excellent pioneer crop on poor soil. They are therefore a very good choice for new plantings to improve the soil and protect the site from erosion.

10 x each of orange (Citrus sinensis), grapefruit (Citrus maxima), lemons (Citrus limon): They provide a good supply of vitamins for the people in the villages, the fruits can be sold on the market and used for juice production in the future: Ecological and nature positive!


20 x Forest stick (Gmelina arborea): Furniture, roof trusses, construction timber – as a material, wood is important in the local economy, but is often cut from natural forests. We have therefore designed 12% timber trees in the agroforestry systems to take the pressure off the natural forests.


20 x Tamarinds (Tamarindus indica): The dense green trees produce elongated fruits, the shell of which contains the brown-red, sweet and sour pulp that is the basis for African dishes and sweets.


6 x Papaya (Carica papaya): Papayas grow on smaller trees that resemble palm trees. Each of these trees produces a large amount of sweet fruit that is a real treat fresh or dried.


25 x Mango (Mangifera indica): Our mangoes produce sweet, juicy and aromatic fruits that are ideal for export when dried. And: Mangoes play a major role in the local diet because they contain many important nutrients.
And between the trees? A variety of other fruits like peanuts, pineapple, ginger, sesame, cassava. These bring further income and food, they improve the soil with nitrogen (peanuts) and siw are a natural fire protection for the forest, because the dry grass is removed and the green plants in between
This is what you do with your food forest!
1000 m2
That's a respectable start! Your forest is already twice as big as the usual garden of a detached house. And: from exactly this size on, one really speaks of "forest" and no longer of "trees"! In the future, your forest will provide food for an African family and bear wonderful fruit for many years to come.
2500 m2
More than just helping a family! Your forest is still too small to get lost in, but it is big enough to stay in, enjoy the shade and harvest the great fruits.
Your forest will provide food for 2 – 3 African families in the future, bring wonderful fruits for many years and additional income for children and medicines.
½ Hektar oder 5000 m2
That's already really, really big! Your forest brings food for 25 people, it brings income, material and it stores up to one ton of CO2 in the future – that means it compensates for about 3,500 kilometres of car travel. Every year!
1 Hektar oder 10.000 m2
A whole hectare! It will be a little paradise! Bigger than a football field and 168 trees full of coconuts, lemons, mangos, cashews, tamarinds, papayas and more!
Your forest will provide food and income for 50 people and in the future it will store about 2 tonnes of CO2 = a quarter of the emissions of a person in Germany – every year!
We look forward to welcoming you as a forest sponsor!