18,24 € / 1000
Fresh delivery arrived!
Traditional hand roasted peanuts from forest gardens.
Shipped in reusable deposit jar!

Peanuts are almost like a staple food in Africa! Why? They are rich in protein, healthy fats and of course a great base for sauces and soups. As a snack, our traditionally hand-roasted nuts without added salt are a healthy alternative to chips & co. Take them with you on mountain tours and adventures, they give you the kick of extra energy when you need it!
Climate Nuts peanuts are grown among the trees of the forest gardens, processed by hand and roasted traditionally over the fire. Forest gardens are mixed crops of trees, shrubs and crops. They sequester CO2, enrich soils, provide good harvests and a healthy water balance. They provide shelter for wildlife, increase biodiversity, and lower temperatures in hot countries.
You help people, nature and the climate with every purchase! Are you with us?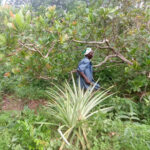 Forest gardens in Sierra Leone
What makes our peanuts special? They come from forest gardens in Sierra Leone. In these semi-natural forests, various trees, shrubs and crops grow in mixed crops. This offers people a versatile income opportunity, helps biodiversity and the soil. You support people, nature and climate!
| | |
| --- | --- |
| Weight | 575 g |
| Dimensions | 12,6 × 8,7 × 8,7 cm |