Spice mixture of roasted sesame seeds, aromatic chili peppers and salt
Packaging 100% biodegradable!
It was a chance encounter. Fudi, one of the farmers in Sierra Leone was having lunch and eating boiled cassava roots, also known as cassava. He always dipped these in a mixture of spices. He gave us a small portion to try and we loved it! And he told us the recipe: sesame seeds are washed, dried in the sun and then roasted. In the typical African large mortar, the sesame is processed together with salt and chili to an incomparably delicious, fiery hot mixture.
"Benin," by the way, does not mean the West African country, but is the word for sesame in the indigenous Temne language of northern Sierra Leone. By buying our Benin Firemix you support the processing of agricultural products and create a source of income for small farmers.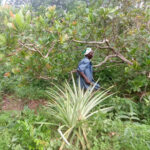 Forest gardens in Sierra Leone
What makes our cashews special? They come from forest gardens in Sierra Leone. In these semi-natural forests, a variety of trees, shrubs and crops grow in mixed crops. This offers people a versatile income opportunity, helps biodiversity and the soil. You support people, nature and climate!
Additional information
| | |
| --- | --- |
| Weight | 83 g |
| Dimensions | 18 × 11 × 2 cm |
Recipes & Ideas
Use our Benin Firemix as a hot and spicy topping for fried potatoes and herb curd. Our favorite, however, is to make it into a pesto.
Ingredients:
4 tablespoons Benin Firemix
1 bunch flat leaf parsley
150 ml fruity olive oil
Grated parmesan cheese to taste
The preparation is easy 😉. Finely chop the parsley and mix with the other ingredients. Add to the steaming hot, al dente cooked spaghetti and enjoy!