Traditional alternative to pepper, ideal for soups, stews and West African dishes.
Packaging 100% biodegradable!

The black seeds of the Selim are also called Senegal pepper, stick pepper and Kani pepper and grow wild in the impenetrable forests of Central and West Africa. Surprisingly, many traditional African spices have been known in Europe since the Middle Ages, but were gradually displaced by Asian spices with the opening of the Silk Road.
Selims pepper has a pungent, slightly bitter anise aroma and can be added whole or in pieces to soups, sauces or poultry dishes when cooking.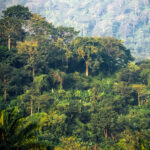 Wild collection from the rainforest
What makes our calabash nutmeg special? It is wild-collected directly from the steaming green rainforests of Cameroon. Local village communities protect the forest, which they have used sustainably for centuries as a source of food, material and medicine. This sustainable use by local people prevents forests from being endangered for short-term profit. You support people, nature and climate!
| | |
| --- | --- |
| Weight | 58 g |
| Dimensions | 18 × 11 × 2 cm |
Try a West African classic: Peanut Soup with Sweet Potato, Selimp Pepper and Chili! Peanuts are ubiquitous in African cuisine. They provide calories, healthy fats and protein, and they make any dish smooth and creamy.
Ingredients:
2 onions, finely sliced into rings
2 cloves of garlic, minced
½ tablespoon ginger grated
5 fruits of selimp pepper
Oil for frying
1 large sweet potato cut into sticks
½ liter of homemade vegetable broth
100 grams of peanut butter with pieces
2 dried chillies, finely chopped
0.3 liters of strained tomatoes
Preparation:
Sauté the onions, garlic and ginger in hot oil for one minute, add the sweet potato sticks and sauté for another 2 minutes.
Deglaze with the vegetable broth and add the selimp pepper.
In a bowl, mix the peanut puree, strained tomatoes and a little broth and add to the soup and season with chili and salt. If you like, you can also add other ingredients such as okra or cabbage leaves cut into strips.
Translated with www.DeepL.com/Translator (free version)