Hot dried chili peppers with intense paprika aroma
Packaging 100% biodegradable!

Lion Chili is one of the most important ingredients in the cuisine of Sierra Leone and all of West Africa. People love the spiciness and delicate aroma of the deep red peppers. Many agricultural products in Sierra Leone thrive in the rainy season, but not the Lion Chili. It is harvested when the hot sun is burning in the dry season.
By purchasing our Lion Chili, you are supporting smallholder farmers who use the land between the trees in agroforestry systems to grow a variety of sustainable products.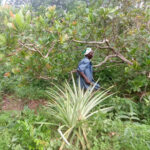 Forest gardens in Sierra Leone
What makes our cashews special? They come from forest gardens in Sierra Leone. In these semi-natural forests, a variety of trees, shrubs and crops grow in mixed crops. This offers people a versatile income opportunity, helps biodiversity and the soil. You support people, nature and climate!
| | |
| --- | --- |
| Weight | 28 g |
| Dimensions | 18 × 11 × 2 cm |
Use our Lion Chili for anything that can use spiciness and sweet bell pepper scent. For chili con/sin carne, for French ratatouille, for spaghetti arrabiata and much more.
Are you flexible? Then let's take a leap from Africa to South America, because they have a wonderful recipe for a sauce for grilling, whether with meat or a vegan alternative: we're talking about chimichurri.
Ingredients:
2 bunches of parsley, finely chopped
1 lime
2 shallots, finely chopped
4 garlic cloves, finely chopped or pressed
1 tsp Lion Chili, finely chopped or pounded in a mortar
1 tsp. salt
1 pinch ClimateNuts White pepper, ground or crushed
1 cup olive oil
1 tablespoon thyme (fresh or dried)
1 tablespoon oregano (fresh or dried dried)
Preparation: Mix chopped parsley, garlic and shallot in a bowl. Squeeze the lime and add the juice. Stir in Lion Chili, pepper, oil, thyme, oregano and salt. Season well and let stand in the refrigerator for two hours.